Living with Uncertainty – Strategies of Adaptation and Horizons of Expectation in Ukraine and Moldova (LimSpaces)
Living with Uncertainty – Strategies of Adaptation and Horizons of Expectation in Ukraine and Moldova (LimSpaces)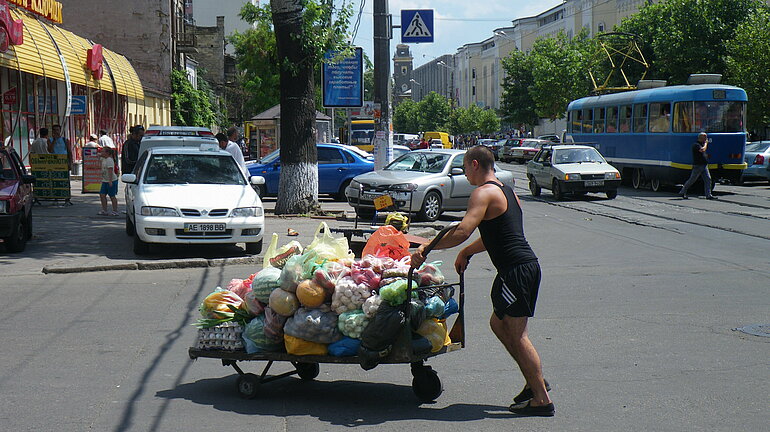 LimSpaces is a joint project developed by researchers from ZOiS and the Centre national de la recherche scientifique (CNRS) in France. It is funded by the German Research Foundation (DFG) and the Agence nationale de la recherche (ANR) for a period of 36 months. The project application was made by Dr Sabine von Löwis, Senior Researcher at the Centre for East European and International Studies (ZOiS), and Dr Béatrice von Hirschhausen, Research Director at CNRS (UMR 8504 Géographie-cités). Another partner institution is the Centre Marc Bloch in Berlin. Cooperation with researchers in Moldova and Ukraine is also planned within the project framework. Out of a total of four project clusters, two sub-projects will be based at ZOiS.
In this project, we examine everyday life in the regions bordering the European Union – specifically, Moldova and Ukraine – where local conditions seem to have settled into lasting political and economic instability. This is at odds with the transformation scenarios posited by governments and international development institutions (International Monetary Fund, World Bank, EU).
On an empirical level, we study individual and collective practices and strategies in situations of high uncertainty. We seek to shed light on the ways in which actors make choices on providing for their needs, undertaking business activities and planning for professional training. In adopting this approach, we conceptualise everyday decisions as the outcome of diverse loci of experiences and horizons of expectations. In our reading, horizons of expectations are both the product of past experiences and the projection of the self into the future. The aim is to gain an understanding of the role played by the past and by norms and rules, and to determine to what extent they are shaped or influenced by supranational organisations. We show how threats (e.g. war and conflict), geographical location, the supply situation and income determine individuals' scope for action.
These processes can only be investigated through in-depth field research and contact with actors in rural and urban spaces. We are therefore conducting several rounds of fieldwork, involving qualitative interviews, in Moldova and Ukraine and their disputed territories: the de facto state of Transnistria and the self-proclaimed Donetsk and Luhansk People's Republics.
On a theoretical level, we aim to critically develop the concept of liminality as in-between space by exploring its features from a key perspective: that of populations in the border areas of Europe. In our reading of liminality, political norms, specific economic principles or cultural values are fluid and produce personal concepts of space which are not only influenced top-down by power structures but are also shaped by individual and collective actors on a microsocial level in everyday life.
Our focus on multiple interconnectedness offers new perspectives on transformation processes and the agency of actors within them. We thus aim for a better understanding of the linkage between development discourses and policies and their impacts on the Ukrainian and Moldovan societies. This perspective will be of key importance in the debates about transformation processes in Central and Eastern Europe and the framing of appropriate strategic programmes such as the Neighbourhood Policy.
On an academic level, the existing contacts with scholars in the region will be developed into transnational research networks.
To what extent do elite discourses complement, confirm, counteract, undermine or obstruct practical adaptation strategies in everyday life, and vice versa?
How do these discourses and strategies impact on society's personal and professional expectations for the future?