ZOiS Spotlight 29/2019
Ukraine's balancing act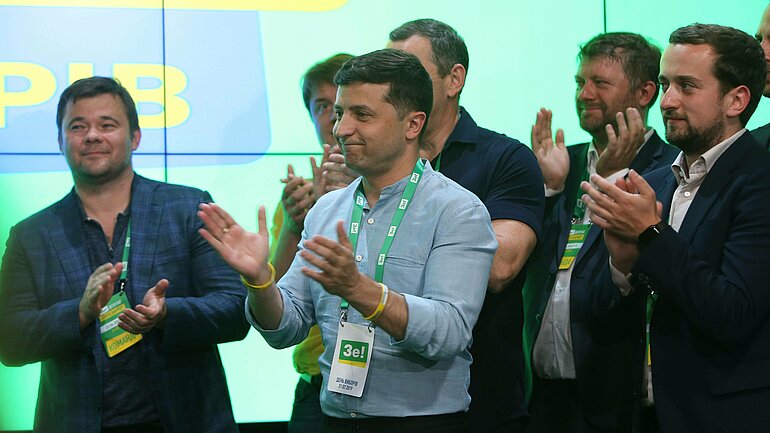 Volodymyr Zelenskyi, once a comedian and actor and now president of Ukraine, is writing a new script: the future of his country. After he scored a stunning victory in April's presidential election as a newcomer to politics, his Servant of the People party has now achieved an outright majority in Ukraine's parliament in the snap parliamentary election held on 21 July.
This election is Ukraine's rebalancing act. Expect Zelenskyi to follow up accordingly, by rebalancing away from the nationalist-patriotic agenda of his predecessors, ending the era of oligarchic monopolies (or at least reducing the oligarchs' influence on politics), and finally prioritising citizens' quality of life. With all the power and responsibility Zelenskyi has won, he will be under a lot of pressure to deliver.
A successful brand
Zelenskyi's parliamentary majority is unprecedented in Ukraine: the previous best result was achieved in 2007 by then president Viktor Yanukovych's Party of Regions, which won 34.4 per cent of the vote. This time, voters again fell for Zelenskyi's campaign message and voted in the Servant of the People brand instead of those serving oligarchic and other interests. This is a clear signal that most Ukrainians want to rebalance the country's policy priorities and want the new ruling elites to put citizens' interests first.
Zelenskyi's brand is unchanged since his electoral success in April. The brand worked so well that even the so-called Euro-optimists, a group of MPs labelled reformers by the Western media, didn't manage to squeeze into the parliament. The demand was for new faces, rather than reformist policies.
The election was fiercely competitive. Out of 22 parties, which fielded a total of 2,746 candidates, there will be only five in the new parliament, but beyond Servant of the People, only rock star Svyatoslav Vakarchuk's Voice is new. The pro-Russia Opposition Platform—For Life under the leadership of Viktor Medvedchuk, former president Petro Poroshenko's European Solidarity, and former prime minister Yulia Tymoshenko's Fatherland will still be a formidable opposition by the old elites.
Turnout in this year's election was historically low, at 49.8 per cent—lower than in 2014 (51.9 per cent) and far behind the record 75.8 per cent in 1994. This does not mean a lower legitimacy; rather, it reflects the country's demographic shifts, particularly massive labour migration. A midsummer election also did not favour a higher turnout, but Zelenskyi was able to mobilise his constituents, and that is what matters in politics.
By contrast, neither Poroshenko nor Vakarchuk could rally their bases in western Ukraine. Although the turnout in eastern and western Ukraine was close to equal, it was significantly higher in the east this year than five years ago. And for a good reason: there was a real competition in the south-east between pro-Russian forces and the Russian-speaking Zelenskyi.
Challenges for the new government
Ukrainian voters' number-one priority is peace in the Donbas region of eastern Ukraine, where Ukraine has been at war with Russia backed separatists since April 2014. Zelenskyi's emerging Donbas policy will face resistance from nationalist circles at home and from Russia, and will depend on Western support. He will have a strong political mandate to deliver change as far as Kyiv can, although any agreement on the future status of the Donbas will require an amendment to Ukraine's constitution.
Other focal areas will be the economy and society where balancing and more pragmatism over patriotic stand will be needed. Ukrainians expect Zelenskyi to reduce the price Ukraine pays for imports, via Europe, of Russian gas. There will be a political determination in Kyiv to fight corruption, and the anti-corruption institution that emerged under Poroshenko can finally be put to effective use.
The fight against corruption needs its own rebalancing. Zelenskyi's government will have to walk a fine line between punishing tax evasion, meeting high public expectations, and further improving the business environment to ensure investment.
Similarly, Zelenskyi will need to find a balanced approach to the role of the state. The libertarian thinking of some of his closer advisers—for example, reducing the role of the secret services or the general prosecutor's office in managing the economy—is certainly valid. But at the same time, Ukraine's citizens need redistribution to fight poverty and state investment in critical physical and social infrastructure.
Constraints will remain as well. The first challenge is the cohesion of Ukraine's biggest-ever parliamentary group. Key state-reform plans—for example, lifting MPs' and judges' impunity, enacting a law on local referendums, or changing the law on impeachment—would require a two-thirds majority in the parliament. Zelenskyi is also no darling of Ukraine's independent media: journalists have been holding him accountable since his emergence onto the political scene.
Zelenskyi's outright victory poses risks to Ukraine's democracy, but that democracy was based on competition among oligarchs. The biggest risk for Ukraine is that the president will fail to change the way the government works. At this stage, the West should also be pragmatic, give Zelenskyi all the support he needs, with the necessary accountability, and put aside concerns from patriotically minded political forces.
Balázs Jarábik is a non-resident scholar at the Carnegie Endowment for International Peace, where his research focuses on Eastern and Central Europe, with particular focus on Ukraine.