Veronika Pfeilschifter
New Left Youth in the South Caucasus: Political Ideologies, Conceptualisations of Justice and Intergenerationality
Veronika Pfeilschifter
New Left Youth in the South Caucasus: Political Ideologies, Conceptualisations of Justice and Intergenerationality
in cooperation with the Institute for Caucasus Studies at Friedrich Schiller University (FSU) Jena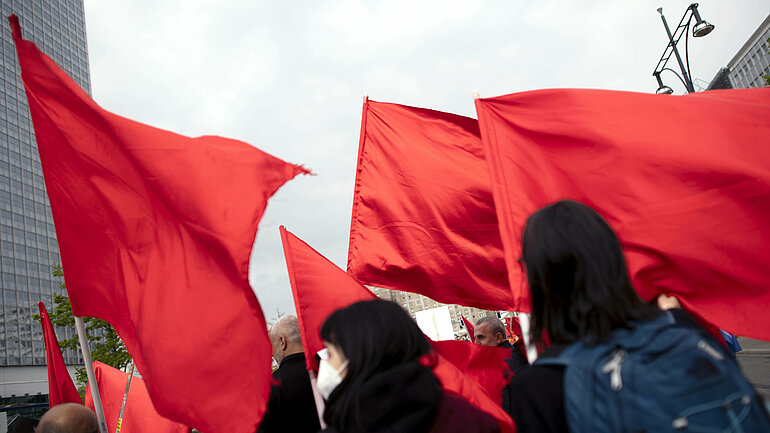 Since the mid-2000s, a new generation of young leftists has emerged in the countries of the South Caucasus (Armenia, Azerbaijan and Georgia), characterised by a heterogeneity of political ideologies (such as Marxism, social democracy, liberalism-critical feminism, anarchism and anti-capitalist ecologism) and social, political and cultural practices. What the representatives of the new left have in common is that they stand up against material and immaterial inequalities. They also try, through political and subversive symbolic activism, to bring their new leftist identities into national and international social discourses and societies.

The left-wing youth in the South Caucasus offers a laboratory of ideological diversity, where the Soviet past and the reference to the value worlds of older generations function as an ideological starting or demarcation point or are partially ignored, depending on the self-image of individuals and collectives. In contexts where the past has been dealt with minimally or not at all, the question of the character of state violence during the Soviet era and since the end of the Soviet Union constitutes a central challenge for the development of left positionalities and scope for action.

Based on selected case studies from Georgia, Armenia and Azerbaijan, this project illustrates and finally compares forms of ideological self-positioning by various left-wing individuals and collectives and their divergent understandings of justice. In all three countries, specific normative, ethical and political debates about notions of sociality, justice and human rights are emerging within the new left.

A total of three case studies and one comparative study will be conducted as part of this cumulative PhD project. Based on dialogic epistemology, it deals with a diverse range of theoretical approaches (critical theory, poststructuralism and postcolonialism) and methods (such as interviews, focus groups, surveys and participatory observations). The project is framed by a conceptual contribution on the topic of youth and transformative justice, with a particular focus on the aspect of political ideologies.
The PhD project is supervised by Dr Félix Krawatzek (ZOiS) and Professor Diana Forker (Institute for Caucasus Studies, Friedrich Schiller University Jena).
Designing and conducting (semi-)structured interviews with left-wing youths and adults in Georgia, Armenia and Azerbaijan; a smaller number of interviews with experts from academia, politics and culture/the arts
Sociological case studies and observations in the field; informal discussions with activists and visitors at left-wing locales
(Intergenerational) focus groups
Evaluation of researcher's own and third party-generated survey data
Qualitative, ideology-critical evaluation
Comparative analysis
Which political ideologies characterise the new left youth in Georgia, Armenia and Azerbaijan?
Which understanding of justice is foundational for the new left youth in the South Caucasus?
How do young leftists relate to the older generations in terms of political ideology and conceptualisations of justice?
What is the significance of the Soviet past for the formation of young leftists' political ideologies?