Dr. Sabine von Löwis and Prof. Dr. Gwendolyn Sasse
Forced Migrants From Ukraine in Transnational Europe: Between Personal Agency, Civil Society And The State (FORUM)
Dr. Sabine von Löwis and Prof. Dr. Gwendolyn Sasse
Forced Migrants From Ukraine in Transnational Europe: Between Personal Agency, Civil Society And The State (FORUM)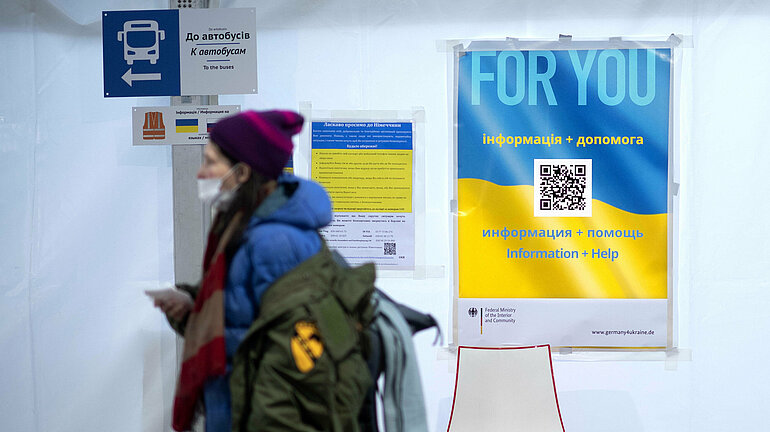 Forced Migrants From Ukraine in Transnational Europe: Between Personal Agency, Civil Society And The State (FORUM) is a joint project set up by the Centre for East European and International Studies (ZOiS) and the German Centre for Integration and Migration Research (DeZIM e.V.).
FORUM is a network of researchers across Europe conducting research on the experiences of people who have fled Ukraine to seek refuge in various countries. It currently brings together scholars from Germany, Ukraine, the United Kingdom, Poland, Sweden and Denmark with a range of disciplinary backgrounds and extensive expertise in the study of forced migration and Ukraine. They are particularly interested in how those fleeing Ukraine negotiate their everyday lives vis-à-vis welfare state regulations, institutional practices, and various local and transnational civil society intermediaries. The network is mindful not to reduce individuals to their experience of displacement. Therefore, it also tracks a set of political and social attitudes, reflections about individual-level identities and the role and perception of the Ukrainian state. Research will be conducted across multiple countries to better understand the role of national and local policies, practices, and cultural meanings that shape individuals' experiences and strategies in view of forced migration.
Conducting qualitative in-depth interviews in various locations to capture diversity in local experiences
Re-interview the research participants within the agreed period of time
Use of digital diary applications to capture everyday experiences of research participants
How do people fleeing the war in Ukraine negotiate their agency vis-à-vis state regulations on their access to schooling, housing, and the labour market?
What is the policy response at national, regional, and local level?
What is the role of the Ukrainian diaspora and diaspora organisations and other civil society organisations in the settlement processes, at the intersection between state and people fleeing the war in Ukraine?
What are the individuals' attitudes on issues related to democracy/authoritarianism, state-society relations and civic engagement locally and transnationally?
How do individuals displaced by the war speak about their own identity/-ies? Does their thinking about the Ukrainian state/nation change over time?