Identity and Borders in Flux (IBiF): The Case of Ukraine
Identity and Borders in Flux (IBiF): The Case of Ukraine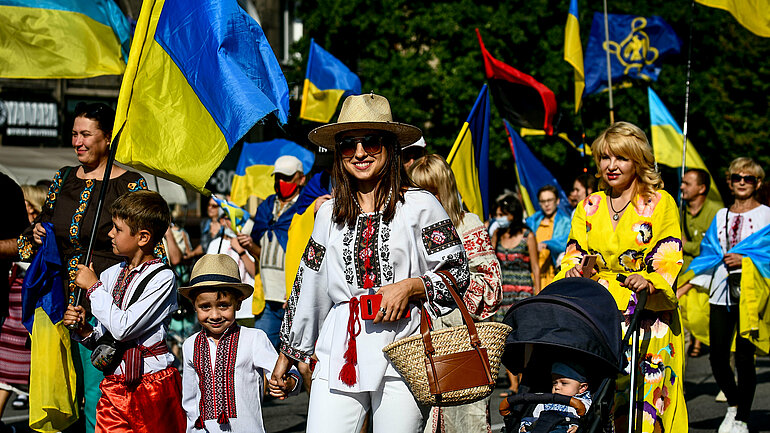 This collaborative project is coordinated by Dr Olga Onuch (University of Manchester) as Principal Investigator. ZOiS Director Prof. Gwendolyn Sasse is involved as Co-Investigator alongside Prof. Henry Hale (George Washington University) and Dr Volodymyr Kulyk (National Academy of Sciences of Ukraine). The project is primarily funded by the British Academy with additional funding from ZOiS and George Washington University's Institute for European, Russian, and Eurasian Studies.
Taking the example of Ukraine, this project asks how stable or situational ethnolinguistic and civic identities and political attitudes are at moments of crisis. Conceptually, the project is located at the intersection of political science, sociology and social psychology. One key focus of the project is the impact of the Covid-19 pandemic on identities, public trust in political institutions and political and social engagement. Another focus lies on the perception of local-level developments and decision-making processes in the context of the 2020 local elections and the ongoing decentralisation reform.
Once the pandemic situation allows, the project aims to re-interview the respondents of an earlier survey over a 6- to 12-month period in order to trace continuity and change in societal perceptions, behaviour and preferences. During the pandemic, the project has been supplemented by adding a series of questions and survey experiments to the Kyiv International Institute of Sociology (KIIS) omnibus telephone survey in April and September 2020.
Face-to-face panel survey including survey experiments
Cross-sectional studies (including the same questions in repeated telephone surveys) including survey experiments
How persistent and salient are ethnolinguistic identities over time in a country as diverse as Ukraine?
What impact is the Covid-19 pandemic having on identities, political attitudes and people's behaviour?
How can discrepancies in the perception of local- and national-level politics be explained?