Central Asia: Connecting Protest Research(ers)
Central Asia: Connecting Protest Research(ers)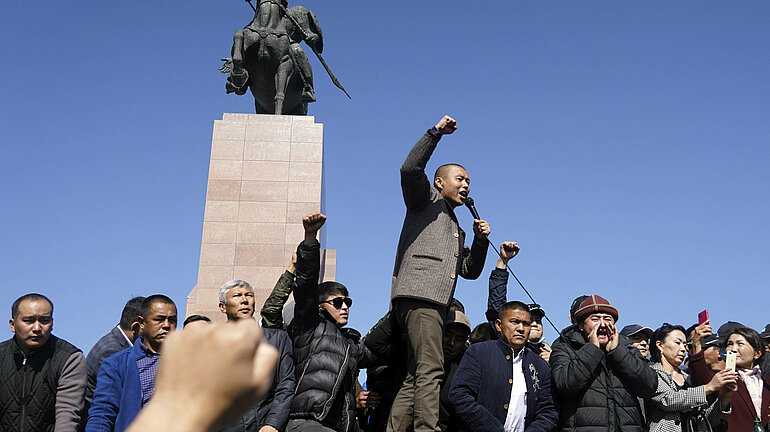 This project is funded by the German Academic Exchange Service (DAAD); the project application was submitted by Dr Beate Eschment, a Central Asia expert at ZOiS. The project partners are Dr Asel Doolotkeldieva and the OSCE Academy, Bishkek, Kyrgyzstan, and Professor Manja Stephan-Emmrich, Institute for Asian and African Studies, Humboldt-Universität zu Berlin. The project will run for one year (1 January 2023 to 31 December 2023) and forms part of the Societies between Stability and Change research cluster.
In the former Soviet space, Central Asia has a reputation as the region least touched by democratic social movements and civic resistance to autocratic rule. In fact, both Kyrgyzstan and Kazakhstan witnessed peaceful protests and large-scale mobilisations in the post-independence period, but the topic of protests is severely under-researched. Several protest datasets demonstrate that there have been many small, localised protests motivated by political, socio-economic, ecological, feminist concerns but also by nationalist and populist sentiment. However, studying protest activism is challenging given the lack of official data, and applying ethnographic methods in the region is often dangerous.
The project therefore seeks to provide avenues for reflecting on the phenomenon of protest and problematising methodological approaches to studying it. It also aims to bring together the few proven experts on the topic and connect young academics from East and West. Participants in the planned workshop will have an opportunity to present their research and discuss new case studies, methods, and theories as well as specific challenges related to ethics and positionality of researchers.
Scientific exchange on methodologies used in the study of protests
Networking of scholars across the region, particularly young researchers from East and West
Providing a platform for future collaborations
Research stay of the project partner Dr Asel Doolotkeldieva at ZOiS, Berlin
Research stay of Dr Beate Eschment in Kyrgyzstan
Workshop for doctoral students and final-year students at the Institute of Asian and African Studies at Humboldt-Universität zu Berlin
Multi-day workshop with experts and young researchers from all over Central Asia and Berlin on protests in Central Asian countries and the challenges of studying them in Bishkek