ZOiS Spotlight 20/2023
The Pro-war Mobilisation of Germany's Russian-speaking Communities
Russia's invasion of Ukraine was welcomed by some Russian-speaking communities in Germany. Social media platforms, first and foremost Telegram, have played a pivotal role in their pro-war mobilisation. Online communications among these groups have been a precursor to offline actions like public rallies.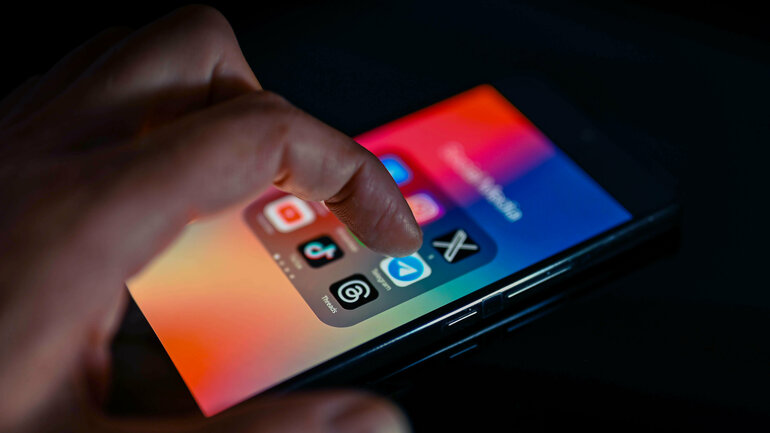 Russia's 2022 invasion of Ukraine had a significant impact on Russian-speaking migrant communities in Germany. It led to the emergence of solidarity networks within these communities with the aim of assisting Ukrainian refugees and condemning Russia's military aggression. However, the invasion also prompted a concerning surge in what can be termed pro-war mobilisation, which has manifested itself in public rallies, including processions of cars and motorbikes, as well as celebrations to mark Russia's Victory Day on 9 May.
These public demonstrations have a multifaceted narrative that encompasses arguments alleging NATO aggression against Russia and fervent appeals to cease supplies of weapons to Ukraine. The mobilisation has united actors across the political spectrum, including far-right and leftist groups, who advocate for the withdrawal of international support for Ukraine and Kyiv's capitulation in the name of peace. Social media has played a pivotal role in shaping and enabling these networks, serving as a space for like-minded users to congregate based on shared identities and promote a sense of belonging, especially to an imaginary homeland. These platforms have been instrumental in constructing identities, building a community, and disseminating information.
The centrality of Telegram
Among these platforms, Telegram emerged as a focal point. The messaging app has played an ambivalent role in Russian-language discourses on the war. On the one hand, it offers alternative sources of information amid tightening censorship in Russia and provides a communication platform for anti-war initiatives in Russia and abroad. On the other, the app has also served as an integral part of the Russian hybrid media system in terms of both actors and content, with pro-war Telegram channels amassing large numbers of subscribers. In response to the perceived rise of 'Russophobia' in Western countries, many Russian speakers in Germany leveraged Telegram to establish channels that aligned with Russia's official rhetoric, normalise divisive and, at times, discriminatory rhetoric, and organise street rallies.
Telegram's appeal to Russian-speaking migrants in Germany stems from its ability to maintain ties among families and friends across borders and, in the new country, foster a sense of belonging to broader communities and provide access to cultural resources. Because Telegram combines person-to-person and one-to-many communication modes, it is conducive to politicisation. Telegram provides access to pro-war narratives and fosters the positioning of migrants as a minority, while German media spaces are perceived as overly liberal and alienating.
Pro-war Telegram groups in Germany vary greatly in size, from small groups to channels with tens of thousands of members. The channels can be categorised into three main types: news media channels, grassroots community chats, and channels led by influencers. While the groups are divided on certain issues, such as the need for negotiations to end the conflict, their narratives predominantly blame the 'collective West' and Germany for igniting the war and supplying weapons to Ukraine.
Furthermore, these channels contributed to the sense of belonging among Russian speakers in Germany by highlighting their Russia-oriented diasporic identities. This was a crucial precursor to inciting offline mobilisation, such as rallies against NATO or calls for Ukraine to end the war by surrendering or giving up territory. These Telegram channels employ misinformation strategies by using factual information to distort interpretations, and propagate fake news, initially by presenting fabricated material.
Shaping the political landscape
In other situations, the channels have promoted a particular agenda to shape the political landscape in Germany, for example by supporting the far-right Alternative for Germany or left-wing politician Sahra Wagenknecht's forthcoming party project, which tries to mobilise conservative and nationalist parts of the Left Party's electorate. Beyond appealing to dissatisfied voters, both political projects disseminate profound criticism of liberal democracy, which is supposedly overfocused on minorities and does not represent the imagined majority of so-called normal people.
This view is in line with the rhetoric of the pro-Russian Telegram channels, which portray German political elites as weak and accuse them of putting their own agendas and NATO allegiances above Germany's national interests, for example by supporting sanctions against Russia. Only Berlin's reluctance to supply heavy weapons to Ukraine and support the introduction of European-level visa restrictions for Russian citizens were discussed positively on these channels.
The hybrid nature of mobilisation
Does the continuity between the content of these Telegram channels and Russia's own hegemonic narratives about the war mean that the channels are mere disseminators of state-sponsored propaganda to migrants? The picture is more complicated, for three reasons. First, some Russian-speaking migrants in Germany are subjected to Russian propaganda not because they are targeted directly but because they consume content intended mostly for people in Russia. The channels of pro-war migrants contribute to this transnational spillover effect.
Second, the channels address the specific position of conservative post-Soviet migrant communities in Germany, where both Russia and Germany are emotionally charged poles of identification.
Third, while some members of these Telegram channels might be trolls or bots used by the Russian state to promote a specific agenda, that certainly does not apply to all of them. The transition of these online networks into offline manifestations underscores the considerable influence of social media groups in enabling the mobilisation of real-life participants. The communicative spaces of mobilisation therefore have a hybrid character in two dimensions, stretching not only between Russia and Germany but also between online and offline action.
---
Dr Tatiana Golova is a sociologist and a researcher at ZOiS.
Liliia Sablina is a political scientist and PhD candidate at the Doctoral School of Political Science, Public Policy, and International Relations at the Central European University in Austria.