ZOiS Report 3/2022
Poesie und Protest. Der "Blutige Januar" in der zeitgenössischen Dichtung Kasachstans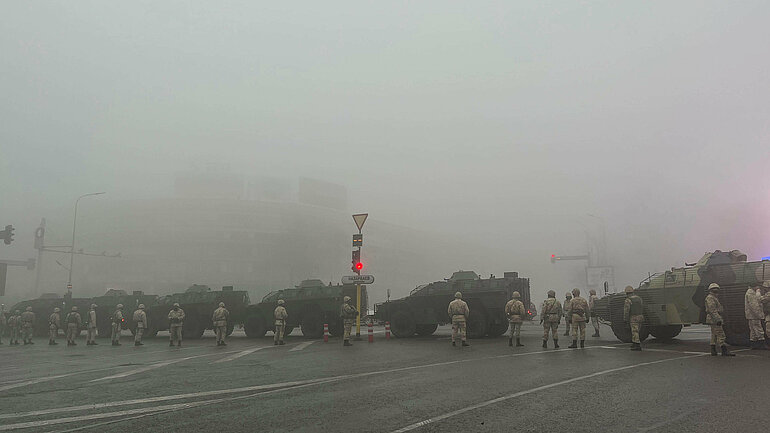 Summary
In early 2022, protests broke out across the Republic of Kazakhstan. Initially, peaceful protesters demonstrated against a price increase for liquefied gas, but later they began to demand political reforms as well. After the protests in Almaty were hijacked by marauding gangs and could not be brought under control by the security forces, Kazakhstan's president Kassym-Jomart Tokayev declared a state of emergency and called on the Russian-dominated military alliance Collective Security Treaty Organisation for help. Within a few days, peace and order had been restored, but not without the massive use of force.
When the internet and mobile connections, which had been blocked for days throughout the riots, started working again in Kazakhstan, many Kazakhstani poets took to social media to express their thoughts. In a multitude of poems, they process the events of Bloody January. This ZOiS Report includes a small selection of these poems in German translation and my analysis of this early literary debate on Kazakhstan's 'Bloody January'.
My findings suggest that
'Bloody January' was a powerful stimulus for Kazakhstani poets. At no other time since the independence of the Central Asian republic have so many literary texts been written on one subject in such a short time.
Many poems paint a vivid picture of what happened during the first days of the protests. They show the general lack of information and people's shock and disorientation, but also their hope for a better future. Thus, at a time when the media could, for several reasons (mainly related to the pandemic, but also to political censorship in Kazakhstan), not cover what was going on, and opinion polls had not yet been conducted, poems became one of the first uncensored sources for understanding what the January events meant to Kazakhstani people.
A central theme of the poems is the internet lockdown. Kazakhstani poets show that, at least in the urban milieu of Almaty, the resulting lack of information, and especially the lack of communication, affected people's sense of identity. Moreover, many of them experienced the lockdown as a drastic reminder of the general restrictions on political agency in their country.
A great desire for political change in Kazakhstan is also palpable in the texts. For this to happen, it seems to many poets that a change of leadership is needed. Ex-president Nazarbayev – not mentioned by name but clearly recognisable to those familiar with Kazakhstan – is harshly criticised in some texts, something that until now was an absolute taboo in Kazakhstan's otherwise relatively free literary sphere. The criticism that is currently being voiced in literary form suggests that Kazakhstan's poets believe a sea change is indeed happening.
Despite the recognisable longing for a change in politics, Kazakhstani poets do not formulate political programmes in their poems. Their poems may be political, but this does not make poets politicians.
The poems also show the development of a vibrant independent literary scene in Kazakhstan since 1991. This development could easily be supported and strengthened: First by providing direct cultural sponsorship, for example by financing readings, writers' residencies and translation workshops in Kazakhstan. And second by publishing Kazakhstani writers outside of Kazakhstan. This would not only introduce them to a new, international readership, but also strengthen their voices at home.