ZOiS Forum
Urban Pioneers: Change "From Below" in Russia
when
23/10/2018
07.00 pm
08.30 pm
where
Zentrum für Osteuropa- und internationale Studien (ZOiS)
Mohrenstraße 60
10117 Berlin
ZOiS Forum
Urban Pioneers: Change "From Below" in Russia
when
23/10/2018
07.00 pm
08.30 pm
where
Zentrum für Osteuropa- und internationale Studien (ZOiS)
Mohrenstraße 60
10117 Berlin
Panel discussion in cooperation with CISR Berlin
in German and Russian with simultaneous interpretation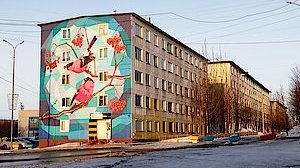 At this event, we cast a glance at some of Russia's smaller post-industrial cities and explore the role of urban pioneers, whom we define as agents of social and political change "from below" and as advocates for urban rights. Together with guests from academia and civil society, we discuss how and when creative spaces and cultural innovations can emerge with the aid of urban pioneers, and identify some of the visible and hidden strategies that they develop as a counterpoint to centralised and neoliberal systems. The aim is to explore aspects of youth research in Eastern Europe through a practical and social sciences lens. Film clips and images depicting local scenes in northern Russia and southern Siberia will be on display in the foyer.
Participants
Anatoliy Breslavsky is a lecturer and researcher at the Institute of Mongolian, Buddhist and Tibetan Studies in Ulan-Ude, Russia, with a particular interest in migration, suburban studies and urbanisation. He coordinates CISR's current education project in Ulan-Ude.
Alexander Formozov coordinates research, education and art projects in Eastern Europe and Germany, focusing on activism, artistic strategies in urban spaces, and social innovation.
Julia Korshunova has managed a teleconferencing project for students at the Universities of Murmansk and Ohio since 2012. As a sociologist, she supports cooperation between Finland, Sweden, Norway and Russia.
Félix Krawatzek is a Senior Researcher at the Centre for East European and International Studies (ZOiS) in Berlin and an Associate Member of Nuffield College (University of Oxford). He studies the political mobilisation of young people in Russia and the associated social imageries of youth.
Chair: Tatiana Golova is a sociologist at ZOiS. She is currently working on a research project on public mobilisation in regional federal centres in Russia.
Childcare
To make our programme more accessible to parents, we offer free professional child care during the event. Please register at least one week in advance, stating the age(s) of your child(ren).
The event is part of the series ZOiS Forum.
The ZOiS Forum brings together academic, artistic, and political perspectives on the issues driving Eastern Europe today. Our aim is to make the significance and variety of our region of research accessible to a broad audience. Readings, discussions, presentations, and film screenings take place once a month during the semester.