Dr. Regina Elsner
Orthodox Peace Ethics and Militarisation in the Post-Soviet Space
Dr. Regina Elsner
Orthodox Peace Ethics and Militarisation in the Post-Soviet Space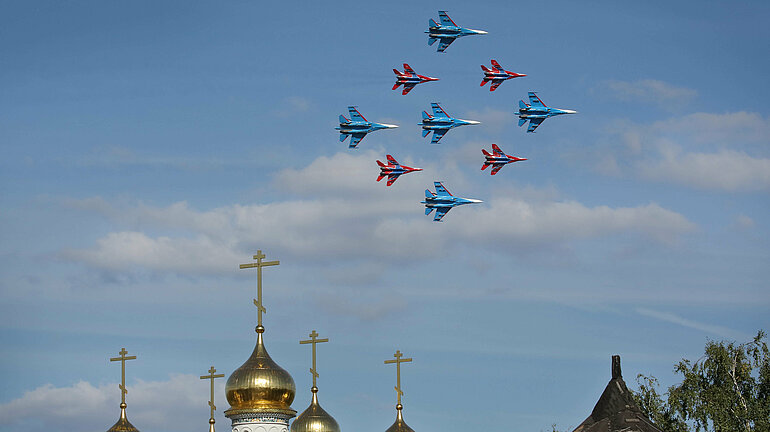 The topic of peace ethics is seldom addressed in academic studies on Orthodoxy, but the need for research on this issue is steadily increasing. Various current events in Russia, Ukraine and Belarus underline the continuing importance of peace ethics as an issue for the Orthodox Churches in these countries. Firstly, there is the continuing conflict between the two Orthodox Churches in Ukraine, which has various implications for the societal debate on the war and questions of reconciliation. Secondly, there is the continuing militarisation in the Russian Orthodox Church, which can be observed, for example, in the construction of the 'Cathedral of the Armed Forces' near Moscow to mark the 75th anniversary of the victory in World War II. Finally, the position of the Orthodox Church in Belarus during the protests after the presidential elections in August 2020 shed light on other aspects of the Orthodox understanding of conflict, violence and reconciliation and on the negotiations between the church leadership and faithful on these issues. In all three societies, initiatives at the local level, such as Ukrainian dialogue projects and the Russian 'national repentance' movement, point to an awareness of the ethics of peace among Orthodox believers, which contrasts with official statements.
The project will undertake a systematic review of basic texts and official statements on issues of peace ethics and conflict policy and analyse practical actions in relation to their theological underpinnings. The aim is to classify the political and social relevance of church positions and gain a better understanding of the interaction of church theology, church practice and socio-political developments. The combination of theological, ecclesiastical and practical faith-based perspectives is also necessary to raise public, political and academic awareness of the plurality of Orthodox positions in the sense of religious literacy. In this way, the options for involving Orthodox churches in peace and reconciliation processes in Russia, Ukraine and Belarus can also be expanded in future.
Which theological understanding of peace, conflict and violence underpins the activities of the Orthodox Church in post-Soviet societies?
How are Orthodox actors engaged in activities/initiatives for peace, reconciliation and conflict resolution and how does this tie in with the official position of the Church?
Which factors prevent or promote the constructive participation of Orthodox actors in peace and reconciliation processes?