Kostiantyn Fedorenko
From Molotov Cocktails to Farewell Parties: Causes of Emigration for Participants in the 2013–14 Euromaidan Protests in Ukraine
Kostiantyn Fedorenko
From Molotov Cocktails to Farewell Parties: Causes of Emigration for Participants in the 2013–14 Euromaidan Protests in Ukraine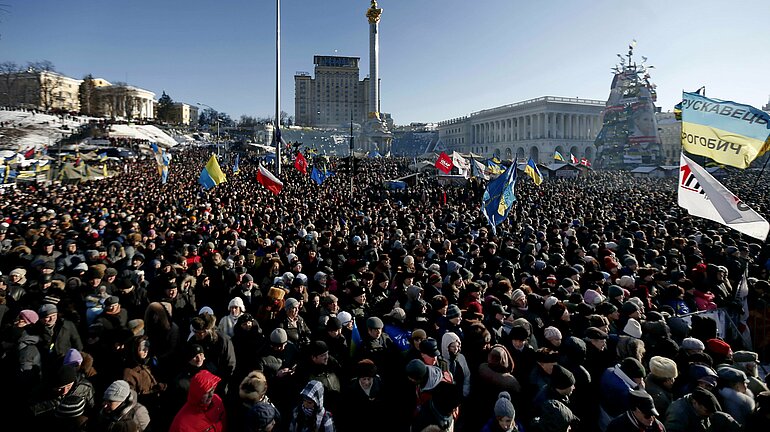 In late 2013 and early 2014, Ukrainians held mass protests against their government. These protests carried immediate risks for the protesters, as law enforcement used excessive force against them. Five years later, the protesters appeared to have won: Ukraine had generally stabilised. Yet, many former participants of the Euromaidan protests decided to leave the country.
This situation prompts the following research question: why do people who have previously risked their lives in successful anti-government protests decide to emigrate several years later? To identify the main contributing factors, a survey will be carried out among former Euromaidan participants to evaluate their attitudes to migration and the factors that might have influenced their decision.
The study expects to contribute to migration theory, as within this field, the issue of politically motivated migration without an immediate threat is under-researched. Furthermore, the study will address the lack of literature in social movement studies on what happens to activists after mobilisation.
The project is being prepared as a dissertation at the Berlin Graduate School for Social Sciences at the Humboldt Universität zu Berlin. The supervisors are Prof. Silvia von Steinsdorff and Prof. Gwendolyn Sasse.
Respondent-Driven Sampling
Quantitative survey of former Euromaidan participants regarding their experiences, attitudes and intentions to emigrate
In-depth qualitative interviews with a subsample of those participants
Why do many former activists in Ukraine's Euromaidan protests choose to emigrate?
What backgrounds are conducive to the migration of activists?
What migration plans do activists have, and when did they form?