ZOiS Report 2/2023
Russians in the South Caucasus: Political Attitudes and the War in Ukraine
Executive Summary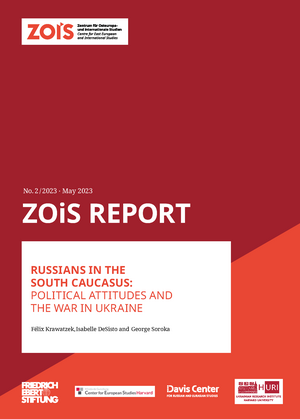 Following the full-scale invasion of Ukraine in February 2022, numerous Russians decided to leave their country. Georgia and Armenia were among the most popular destinations for Russian migrants, either as a temporary stopover or for more permanent relocation. Young urbanites with higher education are disproportionately represented in this wave of migration, which has significant implications for the Russian labour market. The political consequences of the associated demographic changes remain uncertain – on the one hand, the Russian regime has exiled some of its most vocal critics; on the other, the comparatively liberal environments in their host countries might allow exiles to connect with one other and mount a challenge to the Putin regime.
Both Armenia and Georgia are readily accessible for migrants, who can remain there de facto indefinitely. Nonetheless, conditions for newly arrived Russians differ significantly between these countries. Armenia remains socially and politically closer to Russia, whereas public criticism of the Russian government and Russian society is more tangible in Georgia.
We conducted a face-to-face survey in both countries in late 2022 among a total of more than 1,600 respondents. Although our sample is not random and therefore does not represent the experiences and attitudes of all recent Russian migrants in Armenia and Georgia, our findings illuminate important patterns both within and across countries. The key findings are as follows:
Young respondents from cities dominate the samples, with individuals from Moscow and St. Petersburg especially overrepresented.
Half of our samples in both countries have not yet decided for how long they have left Russia. This points to the profound uncertainty this population faces. However, the share of those who see a long-term future for themselves outside of Russia is considerably higher in Armenia than in Georgia: 20% of Russians interviewed in Armenia say they have left Russia forever, while only 12% of those interviewed in Georgia say the same. In line with their sense of a more permanent departure from Russia, respondents in Armenia are more likely to state that they no longer feel responsible for Russia's political future (27%), while only 19% of those in Georgia feel the same way.
Adjusting to the host country can be extremely challenging. Respondents frequently say they have experienced difficulties that are both psychological and material – such as trouble finding a place to live or a job.
Russians interviewed in Armenia were more politically active prior to their emigration, both in terms of news consumption and participation in political or civic activities, such as volunteering, donating to NGOs or organising cultural events. Respondents in Armenia were also more likely to report that they had participated in protest events against the war in Ukraine while still living in Russia (25% in Armenia versus 11% in Georgia).
Levels of political activism in the host country are significantly higher among our sample in Armenia. The Russians we interviewed in Armenia discuss politics with friends and family members more frequently and are also more likely to consume news online and engage in political discussions on social media than their counterparts in Georgia. They have also forged stronger connections with other migrants from Russia. However, respondents in both countries seldom engage in volunteer activities or participate in protests unrelated to the war in Ukraine.
Migrants' views on Russian institutions are overwhelmingly negative, particularly among those interviewed in Armenia. By contrast, around 66% of respondents in Armenia and 46% in Georgia gave a positive rating to Ukraine's president, Volodymyr Zelenskyi. Attitudes to NATO, the EU, and Western media are also largely positive.
Respondents clearly attribute responsibility for the war to Russian authorities. In Armenia, three-quarters of respondents blame Russian authorities; in Georgia, the figure is nearly two-thirds. Respondents in Georgia continue to monitor the progress of the war more closely: over half said they followed the war 'very closely', compared to just over 40% in Armenia.
Russian migrants in Georgia and Armenia have substantially more liberal social attitudes compared to the general Russian population. This difference is particularly pronounced with regard to tolerance of same-sex relations.
The project was realised with financial support from Friedrich Ebert Foundation, the Harvard Ukrainian Research Institute (HURI), the Davis Centre for Russian and Eurasian Studies at Harvard, and Harvard's Minda de Gunzburg Centre for European Studies.