ZOiS Forum
Taming the Garden: (In)Visible Politics and Socionatures in Georgia
when
17/01/2023
06.00 pm
07.30 pm
where
Kino Krokodil
Greifenhagener Straße 32
10437 Berlin
ZOiS Forum
Taming the Garden: (In)Visible Politics and Socionatures in Georgia
when
17/01/2023
06.00 pm
07.30 pm
where
Kino Krokodil
Greifenhagener Straße 32
10437 Berlin
ZOiS Forum with Salomé Jashi and Beril Ocaklı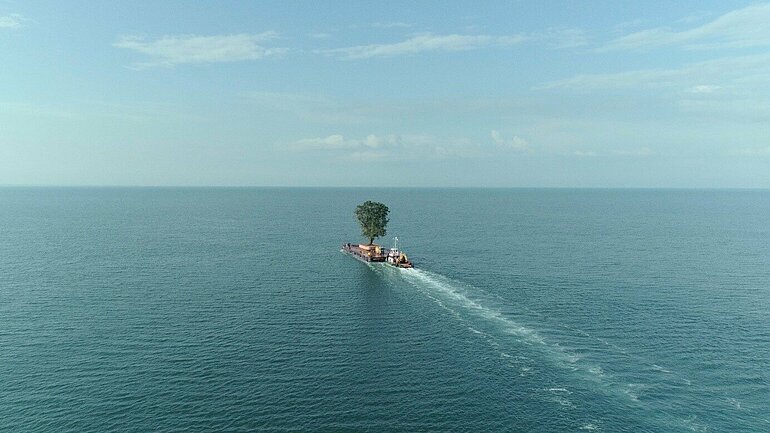 Taming the Garden documents the making of a botanical park by and for Georgia's most powerful man. Salomé Jashi's camera poetically follows the painful transplantation of century-old trees, some as tall as 15-story buildings, from different parts of the country to the north of Batumi, where the park is now situated. The film accompanies heavy-duty machinery as they slowly yet violently uproot trees, leaving behind holes – in nature, communities, democracy. Deemed "too political", the commercial theatres in Georgia refused to release the film and the Georgian Film Academy removed it from its screen after the first screening.
In conversation with director Salomé Jashi and ZOiS researcher Beril Ocaklı, we want to talk about (in)visible politics in Georgia and what it means for the people, their nature and their rights.
The event will be in English.
Participants
Salomé Jashi is an award-winning documentary filmmaker and producer from Georgia. She is also the director of Dazzling Light of Sunset (2016) and Bakhmaro (2011).
Beril Ocaklı researches infrastructures, extractivism and socionatural justice in the South Caucasus and Central Asia. She heads the ZOiS project China, the EU, and Economic Development in Eastern Europe and Eurasia.
The event is part of the series ZOiS Forum.
The ZOiS Forum brings together academic, artistic, and political perspectives on the issues driving Eastern Europe today. Our aim is to make the significance and variety of our region of research accessible to a broad audience. Readings, discussions, presentations, and film screenings take place once a month during the semester.