Panel Discussion with Simultaneous Translation (En/Ger)
Quo vadis, Belarus? Escalation, Power, Independence
when
29/11/2022
06.30 pm
08.30 pm
where
Centre for East European and International Studies (ZOiS)
Mohrenstr. 60
10117 Berlin
Panel Discussion with Simultaneous Translation (En/Ger)
Quo vadis, Belarus? Escalation, Power, Independence
when
29/11/2022
06.30 pm
08.30 pm
where
Centre for East European and International Studies (ZOiS)
Mohrenstr. 60
10117 Berlin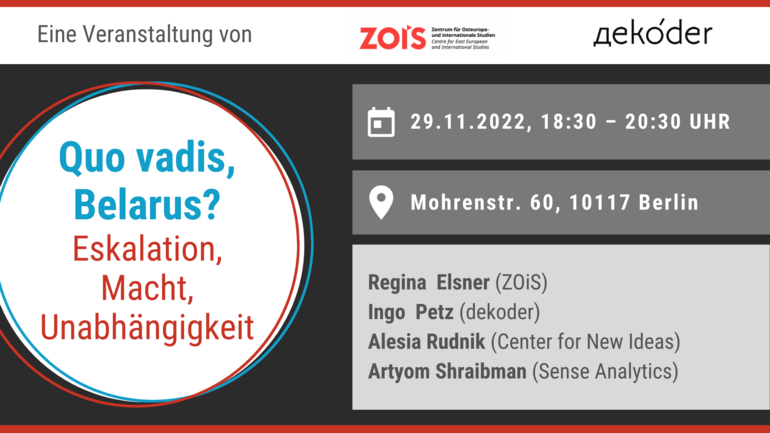 Since the start of the Russian invasion of Ukraine, there have been fears that Alexander Lukashenko could enter into the war with his own troops. To date, however, the Belarusian ruler has not done so, although the thrust of his rhetoric leaves us in no doubt about his pro-Russian stance. By setting up a joint force with the Russian army in Belarus and also arming the civil defence, Lukashenko is himself adopting a decidedly threatening posture. Is this happening because the pressure from the Kremlin is now so great that Lukashenko can no longer resist it and has thus ultimately gambled away the sovereignty of Belarus?
Meanwhile, Lukashenko's crackdown on opposition members and activists continues unabated. In recent weeks, numerous sentences of up to 25 years in prison have been passed. The Belarusian opposition leader Sviatlana Tsikhanouskaya has – after persistent criticism from within her own ranks – appointed a cabinet that is intended to represent the different opposition groups more effectively and professionalise the way her team works. However, the opposition is still not accepted by the Ukrainian government as an official discussion partner. What influence does it have on social processes? And what role does social media play here?
At the fourth event in our series 'Quo vadis, Belarus?', we want to address the questions raised above and put the events of recent months into perspective. Beyond that, we discuss the influence of the Belarusian diaspora on events and ask what its growing politicisation means for a possible future Belarus.
We cordially invite you to this event!
Registration is not required. Please note that masks are compulsory during the event.
Participants
Regina Elsner (moderator) is a theologian and has been working as a researcher at ZOiS since September 2017. She is investigating the sociopolitical role and the social ethics of the Orthodox churches in Eastern Europe since the dissolution of the Soviet Union with a special focus on peace and conflict ethics and gender-related topics.
Ingo Petz is a journalist with responsibility for Belarus at dekoder. After studying Eastern European history and Slavic studies in Cologne and Volgograd (Russia), he worked as a trainee at the Kölnische Rundschau. In 2002 and 2003, he reported for German media from New Zealand. In 2004, he was a scholarship holder of the Marion-Gräfin-Dönhoff Programme for young journalists in Baku, Azerbaijan. Alongside his work as a journalist, he has organised concerts and readings for Belarusian musicians and writers. Petz has been working on Belarus for more than 20 years.
Alesia Rudnik is a PhD student in Political Science at Karlstad University (Sweden) and a research fellow at the Belarusian think tank Center for New Ideas. Her studies and analyses have been published in Belarus, Sweden, Poland, Germany, the UK and the USA. She studied political science in Stockholm, journalism in Sodertorn and European studies in Lithuania and was chair of the NGO Belarusians of Sweden. Her academic research focuses on the digitalisation of politics in autocracies, in particular the role of social media in protests.
Artyom Shraibman is a political analyst and founder of the consulting firm Sense Analytics. He is also a non-resident scholar of the Carnegie Endowment for International Peace and writes for the independent Belarusian news portal Zerkalo.io. Shraibman studied international law, politics and communication in Minsk and London. His research interests include Belarusian domestic politics, media freedom and the general human rights situation in Belarus, as well as Belarus-EU and Belarus-Russia relations. He has worked as a political correspondent for the BelaPAN news agency, as a political editor for Tut.by and as a political advisor for the UN in Belarus.