ZOiS Forum in cooperation with PRISMA UKRAÏNA and Fulbright Ukraine
Narrating Every Day Life During War Time in Ukraine
when
21/09/2023
06.30 pm
08.00 pm
where
Centre for East European and International Studies (ZOiS)
Mohrenstr. 60
10117 Berlin
ZOiS Forum in cooperation with PRISMA UKRAÏNA and Fulbright Ukraine
Narrating Every Day Life During War Time in Ukraine
when
21/09/2023
06.30 pm
08.00 pm
where
Centre for East European and International Studies (ZOiS)
Mohrenstr. 60
10117 Berlin
Panel discussion and opening of the photo exhibition 'Ukraine: War and Resistance'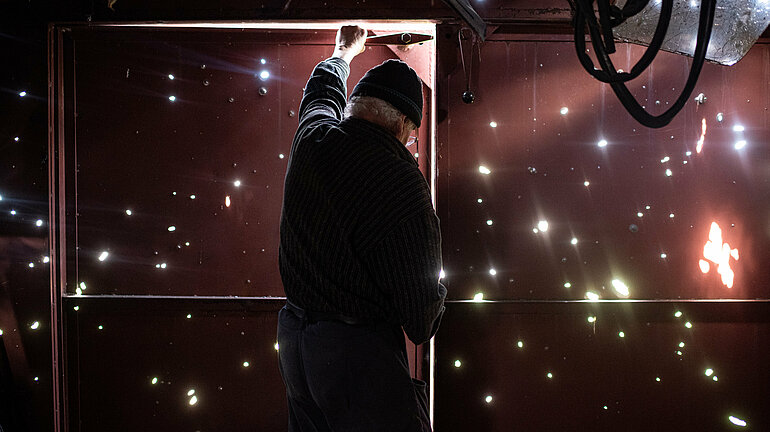 Ever since the beginning of Russia's full-scale invasion, Ukraine has been a focus of global attention. Amidst the constant stream of news images, war reporting and political messages, there are also many attempts to capture and transmit the experiences of Ukrainians' everyday life in war times.
With three experts, we will discuss the power of popular visual culture in times of crisis and its potential to narrate and frame wartime experiences, including the everyday life of people in the temporarily occupied territory of Ukraine, their representation in the media and public discourse, and the epistemological and ethical issues of research under these conditions. In the discussion, we will also touch on the range of tonalities used in the everyday narratives in Ukraine, and their potential deconstruction of memory.
The photo exhibition is part of a collection of images curated by Marian Luniv for Fulbright Ukraine. Most of the photographs were taken after the start of Russia's large-scale invasion of Ukraine on February 24, 2022, yet some date as early as 2014, when Russia first invaded Ukraine and annexed Crimea.
Participants
Olha Haidamachuk, Associate Professor at National Technical University 'Kharkiv Polytechniс Institut', a member of the Kharkiv Historical and Philological Society and a fellow of PRISMA UKRAÏNA at the Forum Transregionale Studien 2022.
Alina Mozolevska, Associate Professor at Petro Mohyla Black Sea National University and ZOiS Ukraine-based fellow.
Yuliia Soroka, Professor in the Department of Sociology V.N. Karazin Kharkiv National University (Ukraine) and Senior Researcher, Human Geography Unit, Fribourg University (Switzerland). She is a sociologist of culture, researching media discourses as cultural reproduction of power relations within society. She is a Fulbright Alumna and a fellow of PRISMA UKRAÏNA .
Chair: Gwendolyn Sasse, Director of ZOiS.
A cooperation with:

The event is part of the series ZOiS Forum.
The ZOiS Forum brings together academic, artistic, and political perspectives on the issues driving Eastern Europe today. Our aim is to make the significance and variety of our region of research accessible to a broad audience. Readings, discussions, presentations, and film screenings take place once a month during the semester.