ZOiS Forum
'In the Enemy's Language?' Russophone Poetry in Times of War
when
09/05/2023
06.30 pm
08.00 pm
where
Centre for East European and International Studies (ZOiS)
Mohrenstr. 60
10117 Berlin
ZOiS Forum
'In the Enemy's Language?' Russophone Poetry in Times of War
when
09/05/2023
06.30 pm
08.00 pm
where
Centre for East European and International Studies (ZOiS)
Mohrenstr. 60
10117 Berlin
Discussion with Miriam Finkelstein (University of Vienna), Dinara Rasuleva (writer), Anuar Duisenbinov (poet) and Nina Frieß (ZOiS)
The event will be held in German and Russian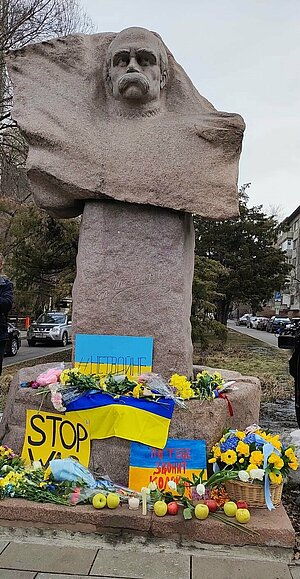 Ever since the illegal annexation of Crimea by Russia, we have observed how Russophone poets in Ukraine have turned away from the Russian language and begun to write in other languages. With the full-scale Russian invasion of Ukraine on 24 February 2022, this trend has been reinforced. Even outside Ukraine, people are now wondering how to deal with Russian, which has become the language of the aggressor. Poets, whose main tool is language, have developed different strategies to deal with this challenge. Together with Slavist Miriam Finkelstein and the poets Dinara Rasuleva and Anuar Duisenbinov, ZOiS researcher Nina Frieß will discuss how poets are approaching the issue of language in times of war.
Participants
Anuar Duisenbinov is a queer Kazakhstani poet, translator, organiser of art events, activist and multimedia artist. He is co-founder of the poetic-musical collective Bakhash Dreams. Anuar writes in Russian and Kazakh, and the multilingual texts that result from this interweaving provide insights into the linguistic and thematic context of Kazakhstan's emerging literature. His first book of poems 'Ruhani kangaroo' was published in 2022.
Miriam Finkelstein is a Slavist and university assistant at the Institute for Slavic Studies at the University of Vienna. Her research interests include multilingualism and language change in literature as well as Russophone literatures in a global context. Together with Naomi Caffee, Nina Frieß and Marco Puleri, she is one of the founders of the Russophone Voices project.
Dinara Rasuleva is a Tatar writer, poet and musician. Dinara appears worldwide with her spoken word performances and organises decolonial readings and festivals, as well as feminist writing workshops for migrants and refugees. In her new project 'Lostlingual', the loss of her native culture and language due to Russian colonisation is the central theme. Her first book of poems 'Su' was published in 2022.
Nina Frieß is a Slavist and research assistant at ZOiS. She conducts research, among other things, on Russophone literatures in the post-Soviet space.
The event is part of the series ZOiS Forum.
The ZOiS Forum brings together academic, artistic, and political perspectives on the issues driving Eastern Europe today. Our aim is to make the significance and variety of our region of research accessible to a broad audience. Readings, discussions, presentations, and film screenings take place once a month during the semester.