Conference
History and Memory in International Relations
when
26/10/2022
09.15 am
28/10/2022
07.00 pm
where
University of Warsaw Library
ul. Dobra 56/66
00-312 Warsaw, Poland
Conference
History and Memory in International Relations
when
26/10/2022
09.15 am
28/10/2022
07.00 pm
where
University of Warsaw Library
ul. Dobra 56/66
00-312 Warsaw, Poland
12th Genealogies of Memory Conference organised by the European Network Remembrance and Solidarity (ENRS)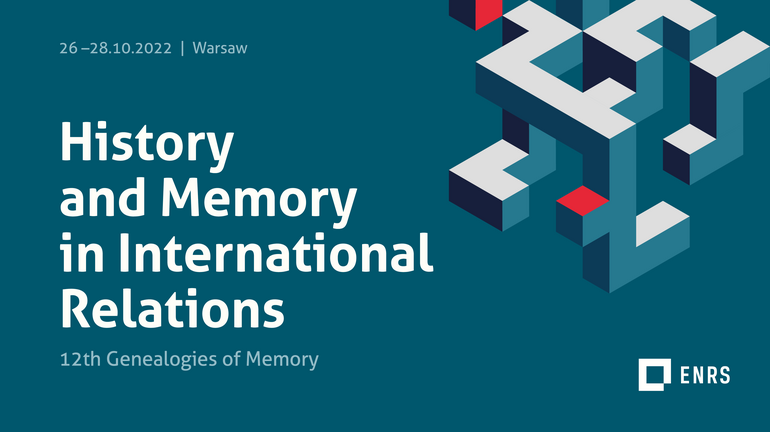 What is the role of memory in diplomacy? How does the perception of the past affect international relations, law and politics? Is it possible to accommodate all the differing views of people and nations relating to key historical events? It is now possible to register for the 12th conference of the series 'Genealogies of Memory' which will take place on 26–28 October in the University of Warsaw Library and on Zoom. For three days scholars from a variety of countries will discuss different ways of remembering and interpreting historical events and their influence on international relations. The series 'Genealogies of Memory' is organised by the European Network Remembrance and Solidarity (ENRS).
This year's conference will consist of eight panels, a roundtable discussion and three keynote lectures delivered by leading experts: Prof. Georges Mink from the College of Europe, who will speak about 'Geopolitics, History and Memory Games: Jumping from the 20th to the 21st century', Prof. Beata Ociepka from the University of Wrocław, who will present 'History in International Relations: A Roadmap or Just a Context?' and Prof. Zheng Wang from the Center for Peace and Conflict Studies at Seton Hall University (USA) with a contribution on 'Historical Memory and Wars: From Ukraine to Taiwan'.
Memory has always played an important role in international relations. Moreover, it has wielded influence over innumerable fields, from international law and public discourse to even seemingly unrelated areas, such as climate security. Different views of the past are one of the biggest challenges faced by diplomats. On the one hand, the war in Ukraine has shown that conflicting historical interpretations and narrations can result in real dangers. On the other hand, history can also serve as a means of reconciliation, with even difficult pasts providing a platform for dialogue.
'Genealogies of Memory' is one of the flagship projects of the ENRS. The conference has been attended by dozens of scholars and researchers from around the world since its inception in 2011. The 12th conference of the series is co-funded by the European Union. Selected lectures from past conferences have been included in the book series European Remembrance and Solidarity published by Routledge.