ZOiS Forum
Border Areas: Places and People on the Ukrainian-Polish and Ukrainian-Hungarian Border (10/21–8/22)
when
17/10/2022
06.30 pm
08.00 pm
where
Centre for East European and International Studies (ZOiS)
Mohrenstr. 60
10117 Berlin
ZOiS Forum
Border Areas: Places and People on the Ukrainian-Polish and Ukrainian-Hungarian Border (10/21–8/22)
when
17/10/2022
06.30 pm
08.00 pm
where
Centre for East European and International Studies (ZOiS)
Mohrenstr. 60
10117 Berlin
Exhibition opening in English and German with Volker Kreidler, Anastasiia Kuznietsova and Tatiana Zhurzhenko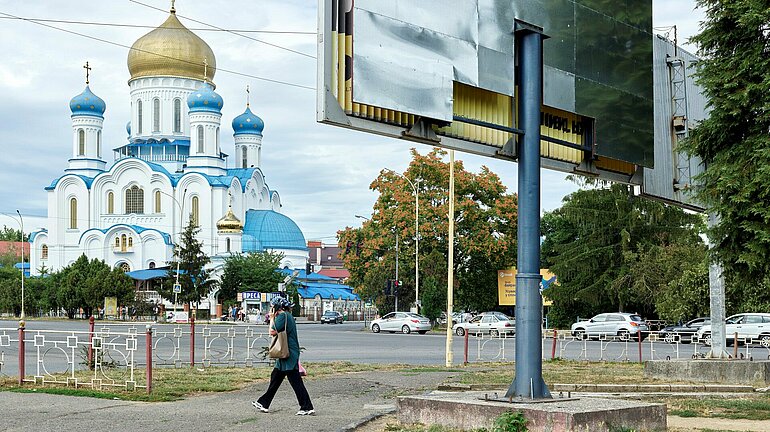 The photography exhibition Border Areas: Places and People on the Ukrainian-Polish and Ukrainian-Hungarian Border (10/21–8/22) curated by Volker Kreidler and Anastasiia Kuznietsova is part of the research project The Liberal Script in Ukraine's Contested Border Regions pursued as part of the Cluster of Excellence 'Contestations of the Liberal Script (SCRIPTS)'. The exhibition shows four places: Chervonohrad and Sambir at the Polish-Ukrainian border, and Berehove and Uzhhorod at the Hungarian-Ukrainian border.
The Liberal Script in Ukraine's Contested Border Regions: The liberal script, defined as ideas and institutional prescriptions about the organisation of politics and society based on the core principle of individual self-determination, is under pressure. Some of the challenges facing liberal democracies today emanate from authoritarian states and non-state violent actors that reject liberal values. The full-scale Russian war against Ukraine is the greatest challenge to the liberal script and Ukraine's borders. Taking Ukraine as a case study, the project examines to what extent the liberal script inspires ideas and guides action; it also seeks to identify the alternative concepts that explain and enforce official, social and cultural borders, with a particular focus on issues of sovereignty, mobility and individual vs. group rights.
At the exhibition opening, Tatiana Zhurzhenko, Volker Kreidler and Anastasiia Kuznietsova will report on their empirical and visual research.
Participants
Tatiana Zhurzhenko is a researcher at ZOiS in the project The Liberal Script in Ukraine's Contested Border Regions since July 2021. Her research focuses on memory politics, borders and borderland identities, with an emphasis on the Ukrainian-Russian border region.
The photographer Volker Kreidler has been dealing with the transformation processes and topography of Eastern and Central Europe for many years. Social space in particular, as a repository of human activity, is at the focus of his work. He has been realising projects in Ukraine since 1994.
Anastasiia Kuznietsova worked as a fashion and people photographer for various agencies in Kyiv until the Russian attack on Ukraine. Since her arrival in Berlin, she has been cooperating with photographer Volker Kreidler; the photo exhibition "Borderlands 10/21-8/22" is their first collective project.
Chair: Sabine von Löwis is a research associate at ZOiS and heads the research focus Conflict Dynamics and Border Regions.
The event is part of the series ZOiS Forum.
The ZOiS Forum brings together academic, artistic, and political perspectives on the issues driving Eastern Europe today. Our aim is to make the significance and variety of our region of research accessible to a broad audience. Readings, discussions, presentations, and film screenings take place once a month during the semester.