ZOiS Forum
The power of images and mass mobilisation in Belarus
when
15/12/2020
06.00 pm
07.30 pm
ZOiS Forum
The power of images and mass mobilisation in Belarus
when
15/12/2020
06.00 pm
07.30 pm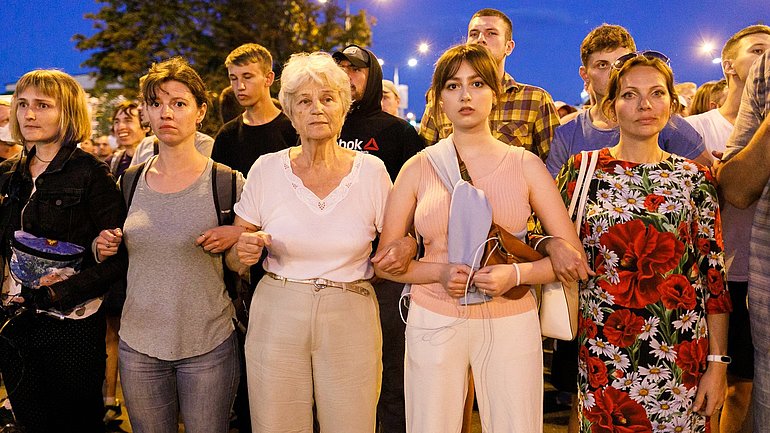 In August, something extraordinary happened in Belarus. Protests against the rigged presidential election and Aleksandr Lukashenka's regime spread across the country and quickly widened into a mass mobilisation. Despite – or because of – violent repression, detentions and torture in prisons, a cross-section of society joined the protests, even in state factories and state-owned media. Images have played an important role in this ongoing mobilisation – as triggers of protests, framing devices of protests and sources of information. In a conversation with artists, photojournalists and political scientists, we will explore how images have influenced the protests, and how they have shaped the self-conception of the protesters and international responses.
Participants
Volha Shukaila works a photojournalist for the largest independent Belarusian online media TUT.by. The Ministry of Information suspended mass media status for the outlet from October 1, 2020.

Maxim Sarychau is freelancing for foreign media as a photojournalist and works in further projects on the edge of photography/journalism/art that focus on violence, human rights and history. He is also a co-founder of SHKLO - an online platform about Belarusian photography.

Nadja Douglas is a political scientist and a researcher at ZOiS. Her current project focuses on the relationship between public initiatives and state power structures in the post-Soviet region.

Gwendolyn Sasse is the Director of ZOiS. Her research focuses on post-communist transitions and comparative democratization and authoritarianism.
The event is part of the series ZOiS Forum.
The ZOiS Forum brings together academic, artistic, and political perspectives on the issues driving Eastern Europe today. Our aim is to make the significance and variety of our region of research accessible to a broad audience. Readings, discussions, presentations, and film screenings take place once a month during the semester.