Film Screening
The Maidan Generation in Ukrainian Politics, 2014-19
when
24/09/2019
07.00 pm
08.30 pm
where
Centre for East European and International Studies (ZOiS)
Mohrenstr. 60
10117 Berlin
Film Screening
The Maidan Generation in Ukrainian Politics, 2014-19
when
24/09/2019
07.00 pm
08.30 pm
where
Centre for East European and International Studies (ZOiS)
Mohrenstr. 60
10117 Berlin
Film screening and discussion (German) in cooperation with Cottbus Film Festival
Discussion in German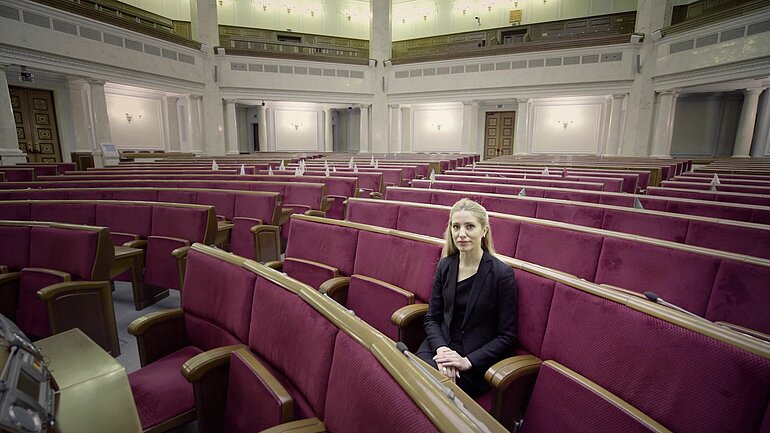 The 2018 documentary Looking for Europe, written and directed by Kristof Gerega, follows three young politicians – Svitlana Zalishchuk, Serhiy Leshchenko and Mustafa Nayyem – as they go about their day-to-day activities as Members of the Ukrainian parliament. The protagonists were activists in the Maidan protest movement and symbolise the post-2014 transformation of Ukrainian politics. But five years on, the 2019 presidential and parliamentary elections mark the start of a new phase in Ukrainian politics and these young politicians must redefine their role. After the screening, we will be discussing the hopes invested in the Maidan movement and the post-2014 changes in Ukraine with director Kristof Gerega and Ukraine expert Andreas Umland. What became of the activists' hopes and aspirations? And who can currently be regarded as a symbol of change in the context of Ukrainian politics?
Looking for Europe/ Auf der Suche nach Europa (director: Kristof Gerega, Germany 2018, 35 minutes, original languages with English subtitles)
Participants
Kristof Gerega is a film director, writer and actor. He focuses primarily on documentary formats and explores their possibilities in the interplay with other forms of knowledge-sharing.
Andreas Umland is a political scientist and Senior Nonresident Fellow of the Centre for European Security at the Institute for International Relations, Prague. He is also consulting editor of Journal of Soviet and Post-Soviet Politics and Society, ibidem Press, Stuttgart.
Chair: Gwendolyn Sasse is the Director of the Centre for East European and International Studies (ZOiS). Her current research interests include the influence of war, annexation and displacement on political identities in Ukraine, and local politics in Ukraine.
Childcare
To make our programme more accessible to parents, we offer free professional child care during the event. Please register at least one week in advance, stating the age(s) of your child(ren).