Panel Discussion
Rethinking Family in the Context of Migration in Russia
when
21/11/2019
07.00 pm
08.30 pm
where
Centre for East European and International Studies (ZOiS)
Mohrenstr. 60
10117 Berlin
Panel Discussion
Rethinking Family in the Context of Migration in Russia
when
21/11/2019
07.00 pm
08.30 pm
where
Centre for East European and International Studies (ZOiS)
Mohrenstr. 60
10117 Berlin
Panel discussion (English and Russian)
In cooperation with the Center for Independent Social Research (CISR) Berlin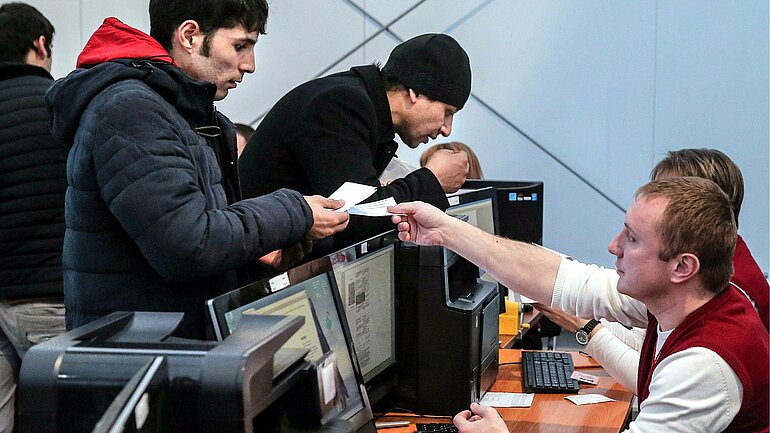 Global mass migrations affect the family institution. Often, migrants come to the host country alone, maintaining family relations "at a distance". In a new place they create new or parallel families adopting other cultural patterns. "On the move" are not only intra-family relations, but, moreover, the very concept of the family is changing. Transnational family arrangements are diverse. The question is, what kind of new forms of transnational family arrangements are emerging between Russia, Central Asia and the Caucasus? The discussants will address the following issues: A "remote" family – what do geographic distances and separation change? The effect of transnationalism – can we talk about mutual influences and "cross-borrowings" in the sphere of family relations? Female migration – a new experience of emancipation or double exploitation of women?
Participants
Olga Brednikova is a sociologist and Leading Research Fellow at the Centre for Independent Social Research in Saint Petersburg. She is co-editor of the book Novoe literaturnoe obozrenie [Microurbanism: The City in Details]. Her recent project focuses on the transnational practices of migrants who have moved from Central Asia to Russia.
Manja Stephan-Emmrich is Professor for Transregional Islam in Asian and African Societies at the Institute for Asian and African Studies at Humboldt-Universität zu Berlin. She co-edited the book Mobilities, Boundaries, and Travelling Ideas. Rethinking Translocality Beyond Central Asia and the Caucasus.
Sergey Rumyansev is a sociologist and Research Fellow at the Centre for Independent Social Research in Berlin. His main areas of research include nationalism, politics of memory, urban anthropology, diaspora, migration and Soviet Studies, with a focus on conflicts in the post-Soviet space.
Guzel Sabirova is a sociologist and Associate Researcher at the Sociological Institute at the Russian Academy of Sciences, St. Petersburg.
Chair: Tsypylma Darieva is a social anthropologist and senior researcher at ZOiS. Her research interests are in the areas of migration, transnational mobilities and post-socialist urbanity. Her project at ZOiS focuses on the transformation of urban spaces and religious pluralisation in Eurasian cities.
Childcare
To make our programme more accessible to parents, we offer free professional child care during the event. Please register at least one week in advance, stating the age(s) of your child(ren).