ZOiS Forum
(No) More Utopia(s)? Young Literature from the Western Balkans and Russia
when
05/12/2019
06.30 pm
08.00 pm
where
Centre for East European and International Studies (ZOiS)
Mohrenstr. 60
10117 Berlin
ZOiS Forum
(No) More Utopia(s)? Young Literature from the Western Balkans and Russia
when
05/12/2019
06.30 pm
08.00 pm
where
Centre for East European and International Studies (ZOiS)
Mohrenstr. 60
10117 Berlin
Reading and discussion (in German) | In cooperation with the DAAD Project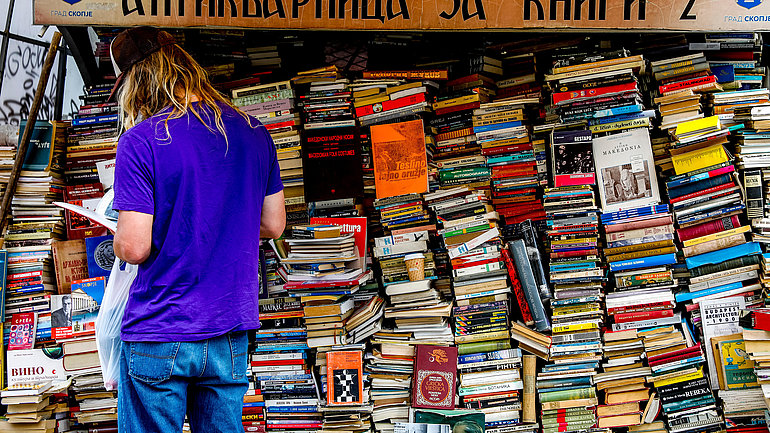 At a time of real and perceived crises, the values of the (peaceful) revolutions of 1989 onwards are being called into question on a massive scale by populist movements, old and new nationalisms and the counter-model of "guided" or "illiberal" democracy. The vision of a politically united Europe has lost much of its appeal in many places, and for some people, "Europe" has become the ultimate enemy stereotype. The purpose of "(No) More Utopias? – A Forum for Engaged Young Literature" is to explore literature as a space for alternative thinking and discussion and to identify what kind of impetus it can generate in support of pluralism, democracy and civil society. The project focuses particularly on works by young writers, for it is their generation whose entire childhood and youth coincided with this time of transition, yet this generation is also especially affected by waning hopes for the future. This event at ZOiS will feature readings by two young writers whose works have been translated as part of the project. They will be joined by Jana George (University of Stavropol), Ivana Pajić (University of Novi Sad) and Željana Tunić and Andrea Meyer-Fraatz (University of Jena) for a discussion with the audience, chaired by Eva Kowollik.
Participants
Barbara Delać is a writer. She studied theory of art at the University of Donja Gorica in Podgorica, Montenegro. She has been a member of the Forum of Young Writers literary group since 2015 and has published poetry and short stories in various collections, literary magazines and online. She is currently the holder of a 2019 Fellowship in Literature at the Berlin Academy of Arts and has previously received various Montenegrin and Serbian literary awards.
Jana George studied Eastern European history, politics, philosophy and German as a foreign language at the University of Jena and completed her PhD at its Graduate School for Cultural Orientation and Social Structures in Southeastern Europe. She is currently employed at the North Caucasus Federal University in Stavropol, Russia, where she focuses on translation of literature and humour.
Andrea Meyer-Fraatz is a Professor of Slavonic Philology (Literary Studies) at the University of Jena, with a special interest in Russian and Polish literature and the literatures of the former Yugoslavia. In recent years, she has repeatedly returned to questions of utopia/dystopia, as well as the portrayal of transition in contemporary writings from the former Yugoslavia.
Ivana Pajić, PhD, is a literary studies expert from Serbia. She is currently employed in the German Language and Literature Department, Faculty of Philosophy, at the University of Novi Sad. Her special interests are intercultural literary studies, German and Austrian film, and German culture in an inter- and transcultural context.
Željana Tunić is a researcher at the Institute of Slavic Studies, University of Jena. Since 2016, she has coordinated various international projects on the literary processing of war and violence experiences in Europe. Her research interests include comparative literary studies, theories of translation, political anthropology, cultures of memory and performativity.
Timur Valitov was born in Nizhny Novgorod in 1991. A law graduate, he is currently enrolled on the Master's Programme in Creative Writing at the Higher School of Economics in Moscow. His literary texts have already won awards and have been published in Russian literary magazines. Timur Valitov lives in Moscow, where he works as a copywriter for an IT company.
Chair: Ewa Kowollik is a Slavonic studies expert and Researcher at the Martin Luther University Halle-Wittenberg, where she gives lectures on South Slavic Studies. She conducts research on contemporary Serbian, Croatian and Bosnian literature, in particular on literature and history, on war narratives and on trauma and literature.
Childcare
To make our programme more accessible to parents, we offer free professional child care during the event. Please register at least one week in advance, stating the age(s) of your child(ren).
The event is part of the series ZOiS Forum.
The ZOiS Forum brings together academic, artistic, and political perspectives on the issues driving Eastern Europe today. Our aim is to make the significance and variety of our region of research accessible to a broad audience. Readings, discussions, presentations, and film screenings take place once a month during the semester.