ZOiS Forum
Frozen Conflict – a filmic reflection of the Transnistrian deadlock
when
21/05/2019
07.00 pm
08.30 pm
where
Centre for East European and International Studies (ZOiS)
Mohrenstr. 60
10117 Berlin
ZOiS Forum
Frozen Conflict – a filmic reflection of the Transnistrian deadlock
when
21/05/2019
07.00 pm
08.30 pm
where
Centre for East European and International Studies (ZOiS)
Mohrenstr. 60
10117 Berlin
Film and discussion (English)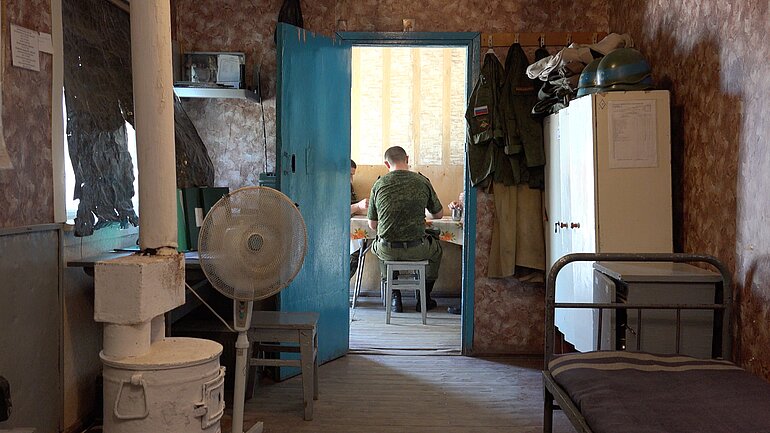 Steffi Wurster's documentary Frozen Conflict turns the lens on the conflict between the Republic of Moldova and the breakaway territory of Transnistria. The director observes the tranquil scene of a multilateral peacekeeping post and the more confrontational relationships in local and international politics, which she describes as a permanent deadlock of hearts and minds. After the screening, Steffi Wurster will talk to political scientist Nadja Douglas (ZOiS) about de facto states in Eastern Europe, Transnistria's role in the region and the prospects for conflict resolution.
Frozen Conflict (director: Steffi Wurster, Germany, 2018, 60 minutes, original languages with English subtitles)
Participants
Steffi Wurster is a set designer and film maker. In addition to her documentary film projects, she produces interdisciplinary video installations in which she explores the visualisation of space.
Nadja Douglas is a political scientist. Her research interests at ZOiS include confidence-building and conflict resolution in the Transnistria case.
The event is part of the series ZOiS Forum.
The ZOiS Forum brings together academic, artistic, and political perspectives on the issues driving Eastern Europe today. Our aim is to make the significance and variety of our region of research accessible to a broad audience. Readings, discussions, presentations, and film screenings take place once a month during the semester.