ZOiS Forum
Faces of Grozny: Chechnya – A Close-Up
when
19/02/2019
07.00 pm
08.30 pm
where
Centre for East European and International Studies (ZOiS)
Mohrenstr. 60
10117 Berlin
ZOiS Forum
Faces of Grozny: Chechnya – A Close-Up
when
19/02/2019
07.00 pm
08.30 pm
where
Centre for East European and International Studies (ZOiS)
Mohrenstr. 60
10117 Berlin
Project presentation and discussion (English)
in cooperation with n-ost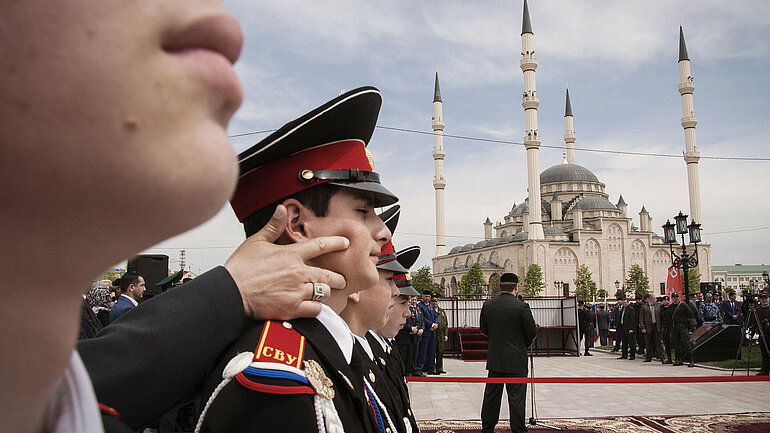 The public tends to associate Chechnya with two devastating wars, leader Ramzan Kadyrov and violent Islamism. This is partly due to a lack of access to other information about this Caucasian republic. Grozny: Nine Cities – a multimedia project by Olga Kravets, Maria Morina and Oksana Yushko – paints a more multifaceted picture. The photographers spent several years creating a complex documentary portrait of the Chechen capital. Oksana Yushko will start the evening with some insights into the project and the conditions facing journalists and artists working in the region. She will then be joined by Gregory Shvedov, Editor-in-Chief of the Caucasian Knot, and Chechnya experts Julie Wilhelmsen and James Hughes to discuss the ongoing conflict, human rights, the social upheavals of recent years, and access to information about Chechnya.
In cooperation with n-ost:
At a time of increasing polarisation and media fragmentation, the transnational network n-ost explores new pathways in foreign reporting. Its media products include the online magazine www.ostpol.de.
Participants
Gregory Shvedov is Editor-in-Chief of the Caucasian Knot, an independent investigative Russian media portal known for its reporting on political persecution, human rights abuses and violence in the North Caucasus.
Dr Julie Wilhelmsen is a Senior Research Fellow at the Norwegian Institute of International Affairs. A political scientist, she conducts research in the fields of critical security studies, Russian foreign and security policies and the radicalisation of Islam in Eurasia. Her book Russia's Securitization of Chechnya: How War Became Acceptable was published in 2017.
Oksana Yushko is a freelance photographer based in Moscow. She started working as a professional journalist in 2006 and currently focuses on projects in Russia, Chechnya, Ukraine and other post-Soviet countries. Her work has been exhibited and published across the world.
Chair: Dr James Hughes is Professor of Comparative Politics at the London School of Economics. His research focuses on conflicts, radicalisation and terrorism. His book Chechnya: From Nationalism to Jihad was published in 2007.
The event is part of the series ZOiS Forum.
The ZOiS Forum brings together academic, artistic, and political perspectives on the issues driving Eastern Europe today. Our aim is to make the significance and variety of our region of research accessible to a broad audience. Readings, discussions, presentations, and film screenings take place once a month during the semester.