ZOiS Forum
25 Years of Struggle: The Russian Constitution
when
05/12/2018
07.00 pm
08.00 pm
where
Zentrum für Osteuropa- und internationale Studien (ZOiS)
Mohrenstraße 60
10117 Berlin
ZOiS Forum
25 Years of Struggle: The Russian Constitution
when
05/12/2018
07.00 pm
08.00 pm
where
Zentrum für Osteuropa- und internationale Studien (ZOiS)
Mohrenstraße 60
10117 Berlin
Panel discussion in cooperation with inforadio
in German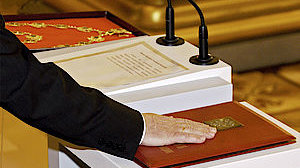 This event will start with a brief introduction to the Constitution's evolution and will then look at basic constitutional rights and their realisation in daily life. The inclusion of liberal basic rights in the Constitution marked a break with the socialist conception of the law. Which basic rights are recognised in the Constitution? How is the system of basic rights structured? How have they evolved in constitutional practice? And how have they been influenced over the years by the President, the legislature (Duma), the executive (government) and, last but not least, the judiciary, with the Constitutional Court at the forefront? Headline-grabbing cases such as Pussy Riot and the crackdown on demonstrators at Moscow's Bolotnaya Square are familiar to everyone. But what about the "silent" rights, such as economic rights, which were intended to be a key driver of reform in a post-Soviet society that has renounced the planned economy? Have they performed the function assigned to them? In short, is there a robust system of basic rights in Russia? This panel discussion aims to provide some answers.
If you require sign language interpretation, please let us know two weeks ahead of the event by emailing events(at)zois-berlin(dot)de.
Participants
Prof Alexander Blankenagel is Professor for Public, Russian and Comparative Law at Humboldt University, Berlin.
Prof Jurij Starilov is Professor at the Faculty of Law of the Voronezh State University in Russia.
Dr Christian Schaich is the Administrative Director of the Centre for East European and International Studies (ZOiS).
Childcare
To make our programme more accessible to parents, we offer free professional child care during the event. Please register at least one week in advance, stating the age(s) of your child(ren).
The event is part of the series ZOiS Forum.
The ZOiS Forum brings together academic, artistic, and political perspectives on the issues driving Eastern Europe today. Our aim is to make the significance and variety of our region of research accessible to a broad audience. Readings, discussions, presentations, and film screenings take place once a month during the semester.