Prof. Dr. Gwendolyn Sasse
Identities in Times of Crisis: the Case of Ukraine
Prof. Dr. Gwendolyn Sasse
Identities in Times of Crisis: the Case of Ukraine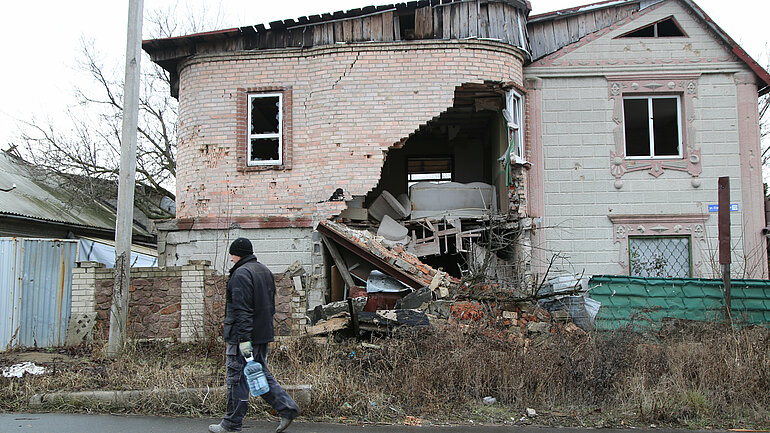 Wars mark turning points whose dynamics may lead to far-reaching social and political changes. In the social sciences the causes of wars have received considerably more attention than their effects. While prominent hypotheses have been put forward on the polarising effects and the loss of trust resulting from wars, on the whole the empirical data relating to these questions is sparse. As well as generating data on those directly affected by the war – the population of the Donbas region and the people fleeing the war zone – this project investigates the overall mood in Ukraine (excluding the war zone and the Crimea).
ZOiS surveys carried out in 2016 were a first attempt to analyse the day-to-day lives, political attitudes, and identities of the population in the Donbas, including the territories not currently controlled by Kyiv. The surveys were repeated in 2019. Contrary to the prevailing assumption of polarisation through war, the results of both rounds of surveys highlight the consistently strong or even strengthened presence of mixed ethnic and bilingual identities, as well as the limited appeal of separatist ideas. A further survey conducted by ZOiS in 2016 is one of the few attempts to date to compile a demographic and political profile of those displaced by the war (the total number of internally displaced persons and people who have fled to Russia is estimated to be in the region of 2.5 million).
Even beyond the war zone, the war is having an impact on attitudes and identities across Ukraine. The project has been charting these developments since 2017 through a set of questions included each year in the representative Omnibus surveys of the Kyiv International Institute of Sociology (KIIS). This data points to the persistence or strengthening of a state-centred identity. Gwendolyn Sasse is also involved in the thematically related project Identities and Borders in Flux: the Case of Ukraine (IBiF). A representative face-to-face panel survey in Ukraine is planned as part of this British Academy-funded project in cooperation with the University of Manchester, George Washington University and the Ukrainian Academy of Sciences.
What effects is the war having on the identities of those directly involved and on the entire population of Ukraine?
How is the significance of ethnic or state-centred identities changing in Ukraine over a prolonged period shaped by crises?
What methodological challenges does public opinion research in crisis situations present?